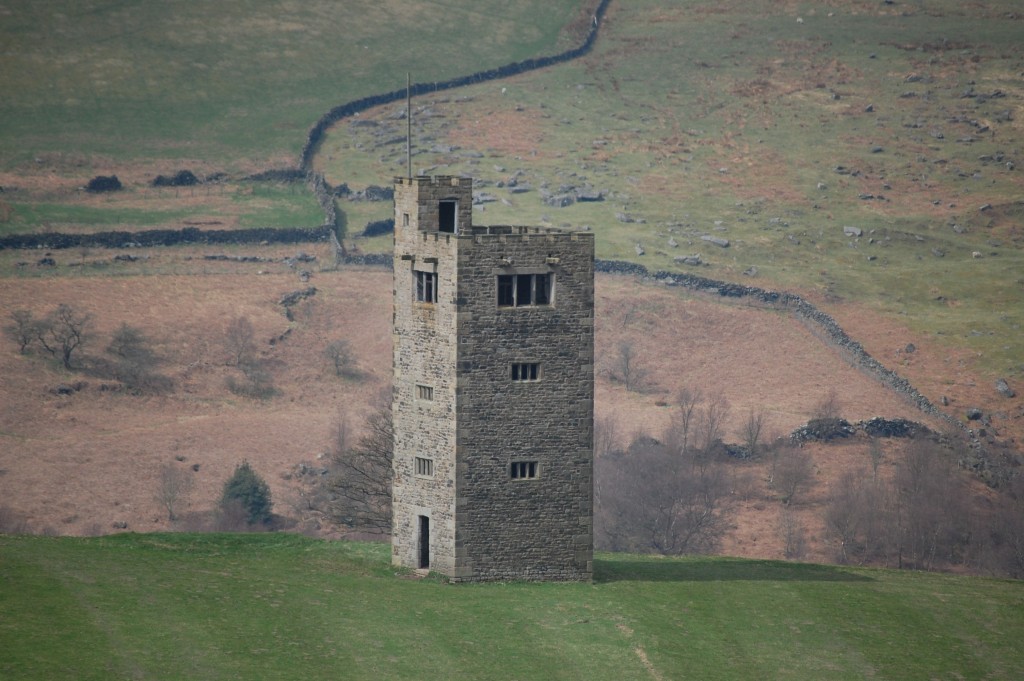 Boot's Folly, near Strines, Sheffield
I dislike the term "folly", referring to extravagant and apparently useless buildings and structures.
Quite often, the constructors of eccentric buildings had a purpose, and knew exactly what they were doing.
The Wentworth Marquises of Rockingham and Earls Fitzwilliam constructed what are now called the Wentworth Monuments to embellish the landscape and to commemorate important events.
Eye-catchers such as Deer Park Lodge at Scampston Hall, North Yorkshire, and Sir Thomas Tresham's famous Triangular Lodge at Rushton, Northamptonshire though decorative, doubled as functional estate buildings.
Boot's Folly, a plain square tower, 45 feet high, that can be seen across the hills north-west of Sheffield between Bradfield and Strines, is unambiguously a folly.
It stands over a thousand feet above sea-level, and is built of the stones of three demolished farms.
Its builder was the canny construction magnate Charles Boot (1874-1945) who lived at Sugworth Hall in the valley below.
He was the son of Henry Boot (1851-1931), who founded the family company and built it from nothing. Charles took over from his father just before the First World War, made a fortune from military contracts during the war and then continued to grow his wealth through post-war construction, particularly housing in Britain and on the continent. He was also the founder of the Pinewood film studios.
In the spirit of all the best follies, there's no clear reason why he built his tower. A customary explanation is the desire to provide employment for the unemployed, like Joseph Williamson at Edge Hill or the 5th Duke of Portland at Welbeck. A more distinctive story is that Charles Boot wanted a vantage point within sight of Bradfield churchyard where his wife was buried in 1926, the year before the tower was built.
Originally, a staircase led to a panelled room at the top of the tower, but this was dismantled – so the story goes – after a cow strayed up the stairs and had to be rescued with difficulty.
There is a fine set of images of the tower at http://www.derelictplaces.co.uk/main/showthread.php?t=30431#.VUOvKOl0zcs.