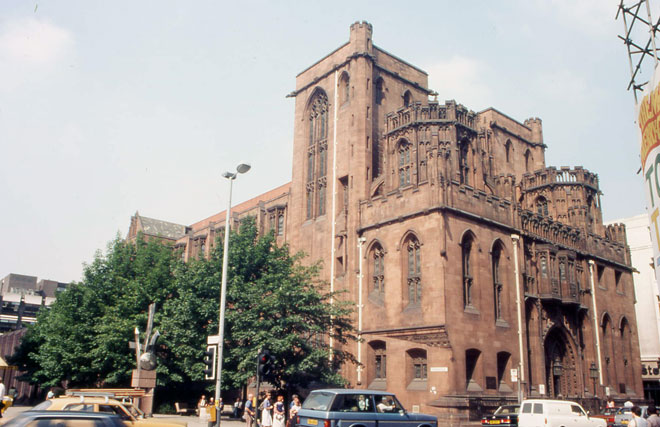 Manchester has so many claims to fame – Cottonopolis, birthplace of canals and railways, Victorian wonder-city, cultural capital of the North – its appeal to visitors is inexhaustible. 
This June 2009 tour explored the city by tram, bus, canal-boat and motor-coach.
It included easy walking tours of the central area and the Rochdale Canal to Castlefield, some of Manchester's magnificent heritage of city-centre public buildings, including a private tour of the John Rylands University Library and examples of the conurbation's most modern buildings, including The Lowry and the Imperial War Museum North at Salford Quays.
It featured a cruise on the Bridgewater Canal and a visit the Liverpool Road Station (1830), and ended with a coach-tour to some of Manchester's most spectacular suburban buildings, including the Monastery of St Francis, Gorton, the Victoria Baths at Chorlton-cum-Medlock, the Whitworth Art Gallery and the Jewish Museum.
The 80-page generously illustrated handbook provides an introduction to the history of Manchester and Salford from Roman times and descriptions of buildings in Manchester city-centre, Salford Quays and the buildings visited in the inner Manchester suburbs, together with maps and suggestions for background reading.
Price £15.00 including postage and packing.
Please send a cheque, payable to Mike Higginbottom, to 63 Vivian Road, Sheffield, S5 6WJ.
To see sample pages please click here.
For further sidelights on Manchester buildings, please click here.